Technopark & other IT parks in kerala like Infopark & Cyberpark offers internship opportunities to freshers. Organised as part of the project by Kerala IT Parks, the Internship Fair at Technopark , Infopark & Cyberpark will be held on the 20th of August, 2022. The Internship for the candidates will be conducted by various companies at IT parks in kerala. The programme is held in association with CAFIT, ICT Academy, Start-up Mission and GTECH. Candidates who have graduated this year and are waiting for the final semester exam result can get a chance for an internship through registration and interview.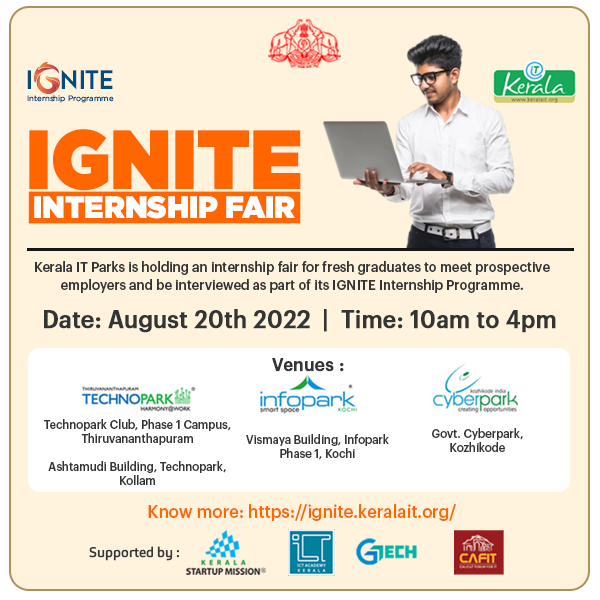 In the first phase, Kerala IT Parks is planning to provide internships for 1500 candidates under the programme in Technopark, Infopark and Cyberpark. The government will contribute Rs. 5000 per month to an intern and the recruiting company will provide at least the same amount every month in the six-month internship programme. To address shortage of adequately trained people in the IT/ ITeS sector in Kerala, the Government had allocated Rs 20 crores in the Kerala Budget 2022 – 2023 and envisaged the internship programme for skill development. Hon. Finance Minister K. N. Balagopal inaugurated the IGNITE Internship programme on the 21st of July, this year at Technopark, Trivandrum.
Important features of the programme
Internship period will be for maximum 6 months.
Government will provide a monthly subsidy of Rs. 5000 per month per candidate to the companies engaging interns as a part of the internship programme (to be administered via parks).
IT parks will create awareness, conduct recruitment fairs, and monitor the conduct of the programme by companies.
Companies will do candidate selection based on their own selection criteria and run the programme in a way that best suits their needs however both the companies and candidates should complete the registration on Ignite website to qualify for availing the Government proposed subsidy. Ideally internship will be a combination to training and projects.
The hiring company should contribute a minimum of Rs 5,000 (excluding the government stipend of Rs. 5000/month for the duration of six months).  
On successful completion of programme, completion certificates will be issued by respective companies, and they may choose to extend job offers to qualifying candidates.
For more details, please visit : https://ignite.keralait.org/